Week 7 – Home Again, At Last
After three-and-a-half weeks—much of it spent miserable—I'm finally back in my own house, at my own PC.  The renovation still isn't quite finished yet, but I'm not gonna lie: just being here has brought down my stress levels. Why, a couple more days and I might actually get back to writing. Imagine that!
Big Lick Comic Con was a lot of fun. I only wish that I could have stayed longer… or, you know, that I had more money and space for souvenirs, but that's the case for every con. Obviously, one of the highlights was meeting and shaking hands with one of the icons of my childhood…
That is indeed Jason David Frank, not just any Power Ranger but the Power Ranger. I was lucky enough to find that Green/White Ranger Legacy Morpher at one of the vendors, so now I'll be able to say for the rest of my life that I held it first and JDF held it second. (The morpher I'm holding comes courtesy of ChaosCroc, who was generous enough to let me borrow it for the occasion. Thanks, buddy!)
My other photos from the con can be found on my Instagram here, which I'm trying to use more often since it's apparently the place for photographers now. Speaking of photography: just before I left, I put together an anniversary photo for Heartcatch Precure's 10th birthday and Go! Princess's fifth, which you can see below.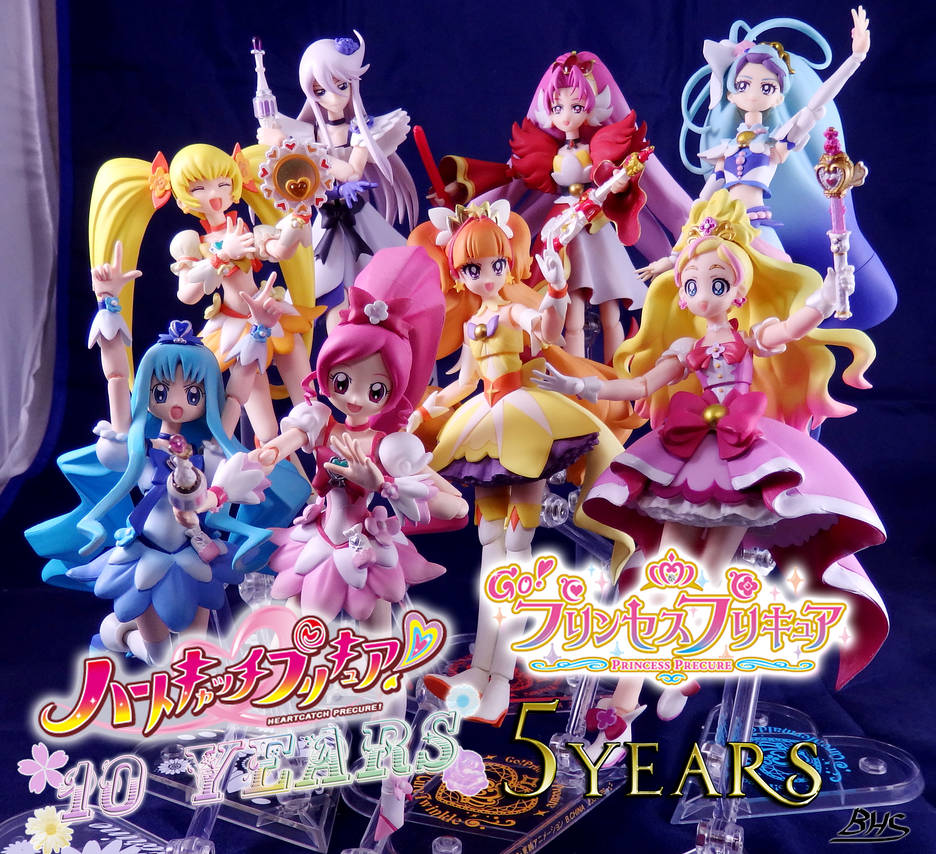 I'm afraid this might be one of the last figure shoots I take with my faithful Olympus camera, sadly. While in the process of taking this one, I discovered that the current minimum respectable number of megapixels on a decent camera is 20 MP or more, and mine's only got 16. I knew it wasn't top of the line anymore, but that still frustrates me… and it explains why so many of my pics lately have looked so terribly blurry. So that's going to be the next big upgrade I invest in… hopefully the jobs I have coming up will cover that.
Anyway. I'm gonna try to actually have some stuff up next week, whether it be progress on Skies or thoughts on Magia Record and Healin' Good Precure. We'll see.
– BHS