Week 14 – A Little Faith Restored
I'll be honest with you all: I was in a really bad place for the first part of last week. Health complications came up in every member of my family except me, IRL things in general were bad, and there was that whole mess with
Kandlin
and PayPal… it was one of my lowest periods in a long while.
So by Tuesday night, I decided to quit feeling miserable and do something about at least one of those things: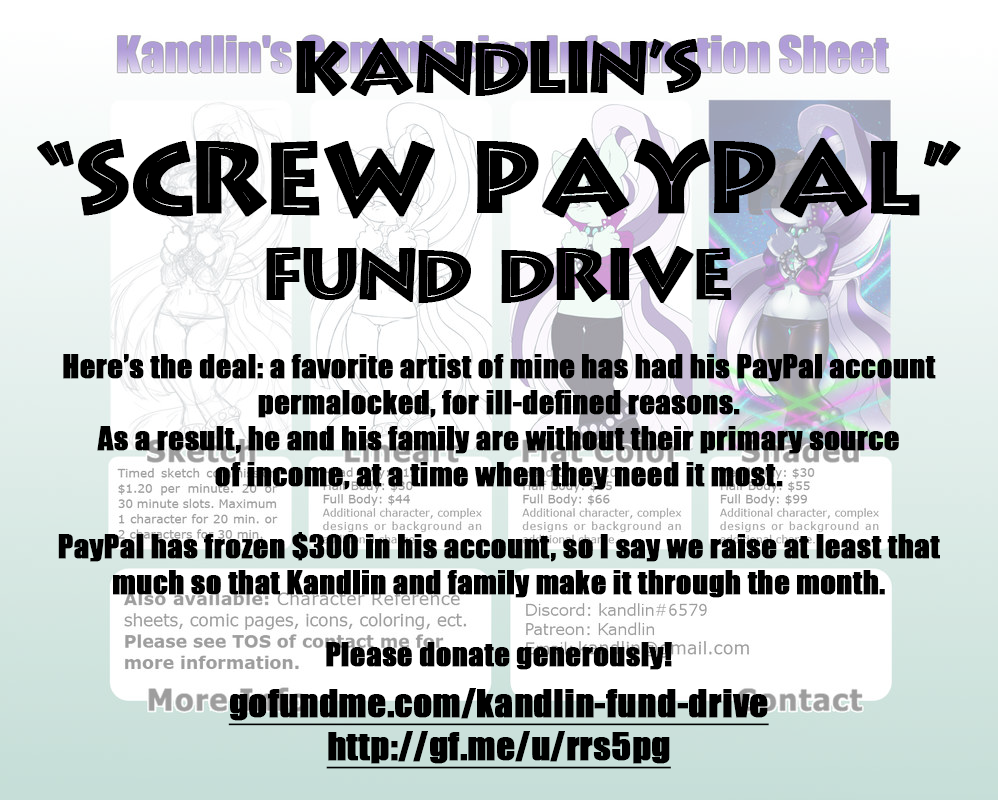 I may not have ever had to support a family, but I'm far too familiar with arbitrary internet bullshit, not to mention being denied payment for my work. The
GoFundMe
was, to be honest, a wild idea to try to do
something
to help. I started it on Tuesday night without any expectations, figuring it would be a nice gesture if nothing else. After all, I wasn't feeling all that confident in people's inherent goodness… I just wanted Kandlin's family's week to suck slightly less.
When I woke up the next morning, it was at $100, and another $100 was donated by Wednesday afternoon. In just over a day and a half, it was fully funded.
The fundraiser is now actually
exceeding
its goal, and by the time I close it down on Wednesday evening, there will be more still. I cannot thank
Gouretoratto
,
RustyRick
,
Joeygatorman
and the anonymous contributors enough for their incredible generosity. Far be it from me to speak on Kandlin's behalf, but for what little it's worth, you brightened both his week and mine. Well done, all of you, and I hope this brightens your week too.
In other news:
Twilight's Dreaming Chapter 8
is finally done, if way overdue. The emotional gravity of these last few chapters has taken a lot out of me, not gonna lie. I really, really hope the payoff will be worth it… but dammit, this is my baby we're talking about, my magnum opus. I can't do anything but write what's in my head and heart and hope it affects the readers in the same way.
My other overdue project, the Titanus episode of Silent InvenTOYry, isn't looking so positive at the moment, sadly. If I stay stalled much longer, I may just move on to my next episode to make up for it… it's getting to the point where I'd rather put out no episode than a lackluster one. If I do end up scrapping it, I'll of course take and upload some high-quality shots of Titanus and the Ultrazord as consolation. It's still up in the air, though.
And finally, no, there will be no April Fools jokes here. I contemplated doing another Apple Fools Day, but given recent events it would be nowhere near as energetic or funny as last year's. I think a couple days of low-pressure activity should have me back in order.
– BHS
Tasakeru Book IV: Twilight's Dreaming, Chapter 8: COMPLETE!

Tasakeru Patreon: 6 Patrons
Twitch Follower Count: 19 followers
Book II Appendix: 2 pages done
Shattered Skies: The Morning Lights, Chapter 44: 0.25 pages done

Shattered Skies: Viluy's Database Chapter 3: 3 pages done
Uravity Falls Chapter 3: 0.5 pages done

Silent InvenTOYry Episode 10: Reworking